Industrial Concrete Floor Preparation: Shaving & Grooving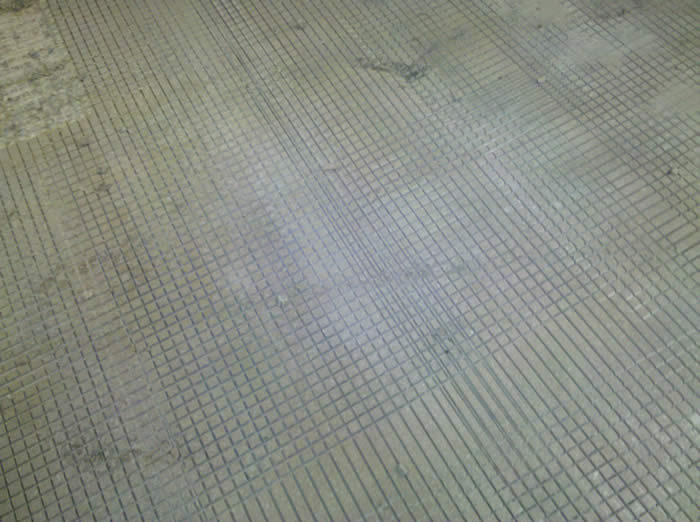 Shaving concrete on an industrial floor is a precise preparation method for removing an existing floor coating, or simply to remove a thin layer of concrete. Shaving the concrete floor is a process to remove material at a uniform depth from 1/32 inch to 1/4 inch in one pass...consistently.
There are various concrete floor applications where shaving concrete is valuable:
Leveling floors that have curled at the joints
Removing existing concrete floor toppings without causing surface damage, for example prior to concrete floor polishing
Removing accumulated layers of existing concrete floor toppings
Contact Concare to determine the right preparation method for your industrial concrete floor.
Grooving concrete on the industrial floor is another preparation method used to create a pattern on the concrete floor. It can help remove multiple layers of existing floor toppings by cutting into the concrete floor surface, and creating a checkerboard like pattern. Most concrete grooves are cut approximately 1 inch to 2 inch apart and can cut through the industrial concrete floor as shallow or deep as necessary. Then, a scarifier or milling machine can remove that topping much more efficiently.
When industrial concrete floor safety striping is in a critical, never going to change location, Concare utilizes the concrete preparation method, grooving to create a 4 inch to 6 inch wide depression directly into the concrete floor without affecting the rest of the concrete floor. The striping material is poured into the depression reducing wear caused by forklifts and other traffic.
Grooving preparations are best used for these applications:
Enhancing the bond from cementitious urethanes to concrete floors
Reducing slipping as the grooves act as traction on the concrete floor
Creating long lasting embedded safety striping
Contact Concare to determine the right preparation method for your industrial concrete floor.